With the help of our team riders and years of experience, we prepared a wide selection of models to satisfy different needs. From radical turny Quad to Foil and even SUP and surfboards.
The product should follow your needs and this is why custom boards made tailored for YOU is the right choice!
CORE line
We took the best-selling models and volumes and made a stock of boards. Same quality, minimum delivery times, attractive price. More info
Here, we are presenting some common combinations but if you have some other ideas we can bring them to life.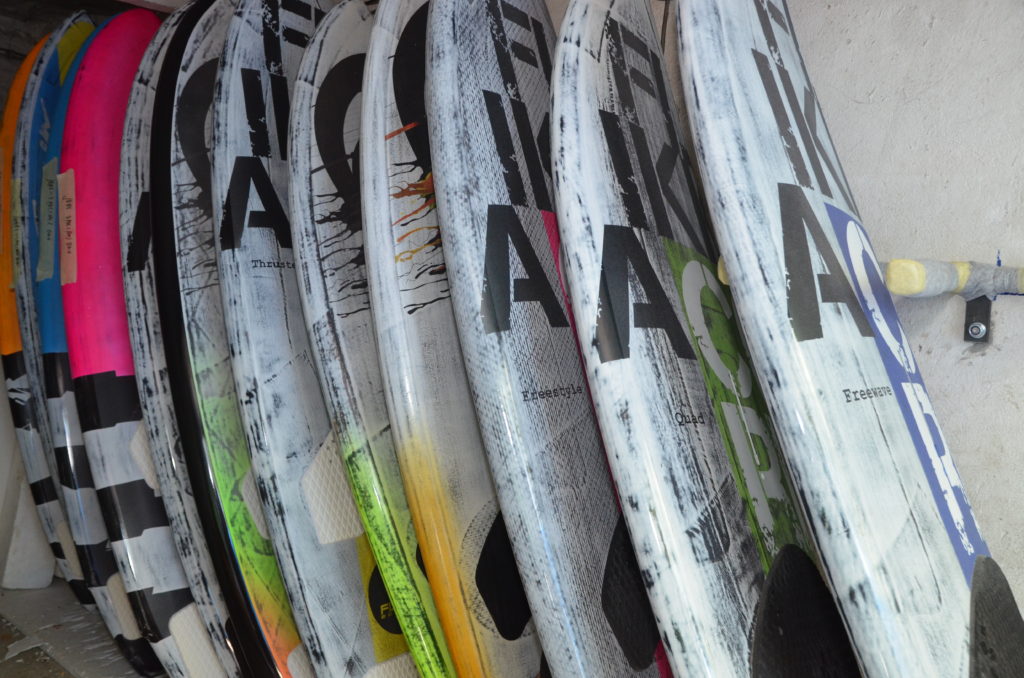 Our custom boards can be made in line with your needs and wishes. You can give us detailed instructions on what you want or we can help you choose with all the specification. There are some most common combinations for orientation that you can find under a specific model.
Based on best practices we also developed the CORE line. These are boards that combine the most ordered models/volumes and are usually on stock. CORE line products are marked in tables.
In general, we divide constructions into S-glass, carbon, and Dyneema. Each of these constructions can be made in light/regular/hardcore version.
S-GLASS
is our most popular construction that works best for the majority of riders. It's a Combination of S-glass, biaxial carbon and Dyneema fibers which are strategically positioned where their characteristics are most needed- X-carbon construction over the standing area, Dyneema nose and an additional layer of s-glass on the rails. It offers the best combination of strength, impact resistance and price.
S-glass construction is available in 3 versions:
LIGHT: our lightest construction where board weights can get under 5 kg. Suitable for wave riding oriented riders who don't jump much.
REGULAR: most all-around construction. Combines low weight, high strength, and good impact resistance. Suitable for all types of riders and all conditions.
HARDCORE: our strongest s-glass construction, made for big jumps and heavy landings. Suitable for riders who jump a lot. Build to last.
CARBON
If you need a responsive board then carbon is the right option. Strong for big surface area hits (landings) and extra stiff (be sure your knees and ankles will like it). We recommend these constructions for freestyle, slalom, freeride and bigger freewave boards, where lightweight and high-performance response is important.
Carbon construction is available in 3 versions:
LIGHT: Full high-grade biaxial carbon bottom and deck. These boards are perfect for all who appreciate light, stiff and reactive carbon feeling. More fragile than S-glass constructions and weaker because of high stiffness. Ideal for those searching for super early planning and high-performance oriented board that will be handled with care.
REGULAR: full biaxial deck and bottom with additional plain carbon reinforced deck, this construction is stronger than Light version and therefore better for boards that will be jumped more and ridden harder. Perfect for freestyle boards and slalom boards.
HARDCORE: Full biaxial carbon deck combined with s-glass and unidirectional carbon bottom. Super strong carbon board that can take some big jumps and flat landings. Ideal for HC freestylers who abuse their board in power moves.
DYNEEMA
boards are perfect for riders who are looking for more impact resistant boards. If your sessions regularly end on sharp rocks, then these constructions are the solution.
Dyneema construction is available in 3 versions:
LIGHT: Full superlight Dyneema deck and bottom with unidirectional carbon reinforcements. A bit heavier then Light s-glass and carbon, but more flexible and much more impact resistant. Ideal for those searching for wave riding oriented board that can also take some beating on the rocks.
REGULAR: Combines low weight, high strength and with full Dyneema deck and bottom it has excellent impact resistance. Stronger then Light, so it's also good for riders that jump a lot. Suitable for all types of riders and all conditions.
HARDCORE: Our strongest construction. Full Dyneema deck and bottom, combined with biaxial and unidirectional carbon reinforcements. Can take big jumps and sharp rocks. Stronger than HC carbon. 2-year production and breakage warranty.
CORE line
Quad, Thruster and Freewave CORE boards are made of S-glass-regular construction that offers the best mix. Freestyle CORE boards are made of biaxial carbon construction.
Our Warranty Conditions depend on the chosen construction. You might check that as well.
We offer a variety of graphic design options when ordering a custom board. You can order a combination of available design/background/logo options and colors for no extra charge. Optionally, a custom artwork can be ordered for extra cost.
CORE line graphics are predefined: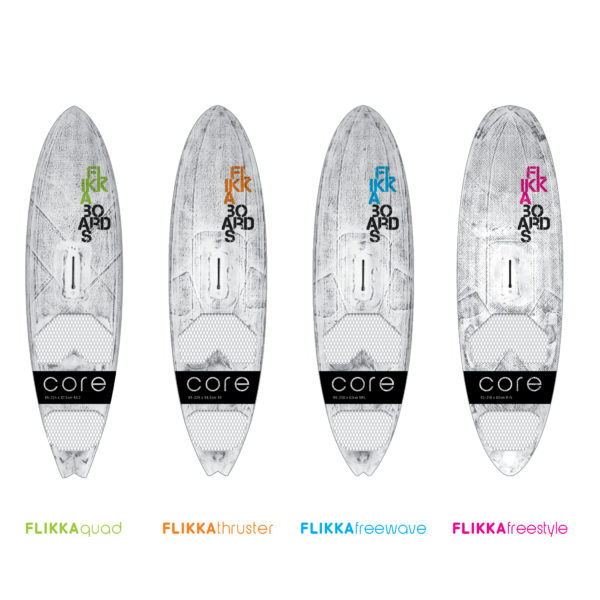 Check our gallery for some real samples.
*Picture above shows how rockers differ depending on the number
Rocker line (bottom vertical line) has a major impact on how a board flows over water. More rocker, in general, means a better turning board on a bigger wave but its neutral position on the water may have a negative effect on early planning, direction stability, and top speed. Shapers are trying to get the best mix of rocker line and other variables that determine board behavior. One of the important advantages of custom boards is that rocker can be chosen by each individual order and not like production boards that are made out of moulds where big compromises must be made to satisfy the average of certain groups.
Our scale starts with rocker #1 which is the most radical and meant for advanced windsurfing in pure bigger waves. The higher the rocker number, the more flat the bottom gets. Our slalom boards have the flattest rocker which of course make sense for this type of boards. Please check specific models for more details about rockers or consult with us for the best option for your needs.
There is actually not so much to say about the outline of our tails. The difference in making the boards different in their characteristics is minimal. Its mainly a "looks" thing, but different models and sizes may still prefer a specific shape. Let us know what you like and we will let you know if we think there is a better option.
Great allround characteristics, but most of all… we love the way it looks 😉 (standard option Allwave)
More control in highwind.
More drive in smaller waves.
Better release in topturn.
As we searched the market for the best fin boxes and fins we came to the conclusion that we need to develop our own. With in house developed carbon made fin boxes, we achieved a much stronger and lighter solution that plays a crucial role in multi fin boards. We always suggest the number of fin boxes for every model but you can choose yourself the solution that works best for you. Depending on the model and size of the board we suggest a certain type of fin box (slot box, US box, power box, or tuttle box), but you can choose your preference.
We produce our Flikka fins from durable G10 material that are tested to work best with our boards. All the boards include a proper set of fins but you can always order additional fins to increase the range of your board. Slalom and foil boards do not include a fin / wing.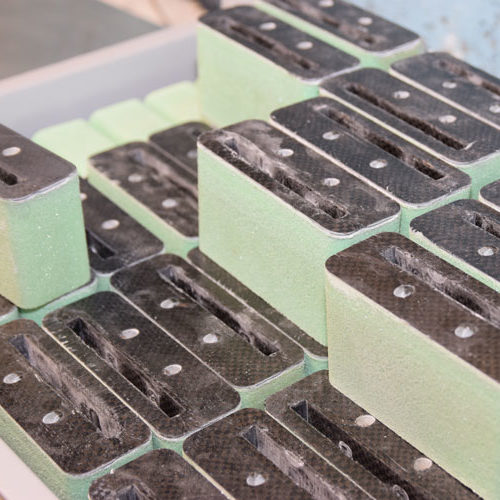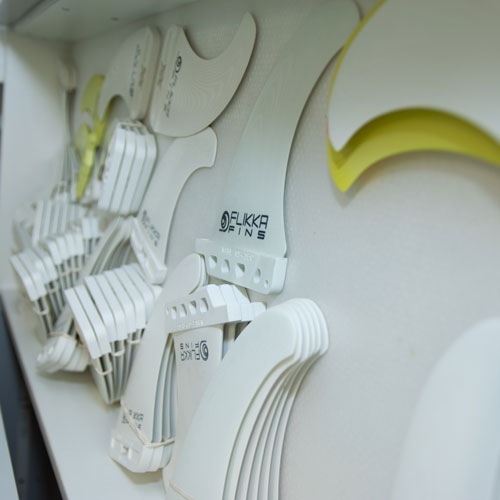 Each product is good only as its weakest part. For this reason, we take a lot of effort to take care of every possible detail.
EPS
foam comes from a factory that is only 3 km away from our workshop. Together we developed and tested a special EPS foam that has the best characteristics for a windsurfing/SUP/paddle board. Due to the short travel distance of this voluminous, we are proud that we make a smaller negative impact on the nature that makes windsurfing a special sport.
PVC FOAM
We use highest grade divinycell foams in different density and thickness.
FOOT-STRAPS AND SCREWS
We make use of our own developed inox inserts that come with all of our boards. Over the years this system has proven to be 100% reliable and you won't ever experience a broken screw or insert.
We use 4 screws per strap on the front and back foot-straps. We usually recommend 2 insert positions for back and front. More inserts are possible but usually not needed. Regular stance on wave boards is 42,5/45/47,5 cm, but all other options are possible. 
HINT: For smaller riders we suggest 40/42,5/45cm. For taller riders, we suggest 45/47,5/50cm.
You can also choose only one position as it saves some weight. And most people prefer just one foot-strap position anyway.
The board comes equipped with soft, durable and adjustable Flikka foot-straps. One important advantage of our custom boards is the flexibility to choose your own foot strap width. Regular is 15cm, but you can order a smaller or larger width.
FOOTPADS
You can choose white or black footpads with the option to have built in heel bumpers. There is also the option to choose white with tail-kick (no heel bumpers).
AIR-VALVE
You can choose between a regular valve screw or a Gore-Tex valve. Both options work fine and it is up to your preference what your board will have. Gore-Tex valve breath air all the time, so the pressure is always optimal. It is recommended by the supplier to be replaced every two years.
We took the best-selling models and volumes and made a stock of boards. Same quality, minimum delivery times, attractive price.
• Full custom-building process, just like our custom line
• Shapes are tested and optimized to work for the widest variety of riders
• Clean design and shape
• 2 years guarantee against failure of materials or workmanship
• All listed board types and sizes are usually on stock – no more long waiting periods on your custom-built board
• Check available sizes in a specific model – dimensions section
• Affordable price
Modifications or customization of shape, design, pads, and fins are not possible in the Flikka CORE line. If you want a board that is 100% tuned to your wishes, order a Flikka full custom board.
Available models and sizes in CORE line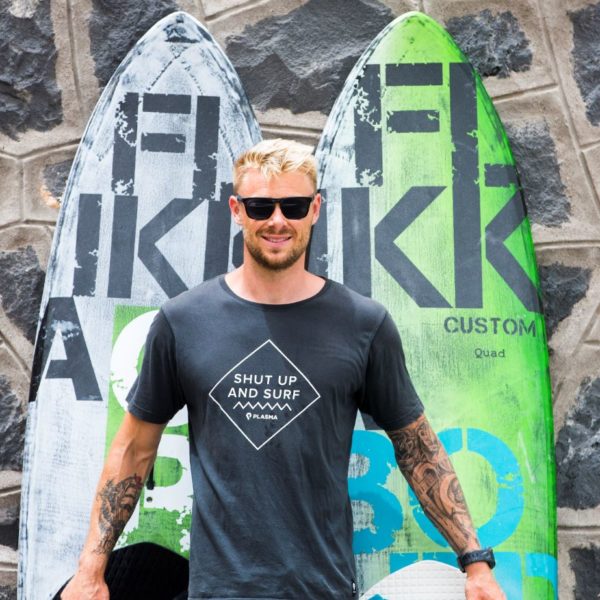 In order to compete
in Wave PWA events I need equipment that I can rely on. I am really happy I met Luka years ago and we started this beautiful partnership. Flikka boards are the right choice for my personal needs as I can get exactly the shape and construction that suits my needs and demanding condition that I face during the season. – Kenneth Danielsen, D-38
Flikka board is
my first custom board. I was always buying a series board but at some point, I felt I am not getting what I wanted. Luka really helped me feel comfortable when choosing the right custom board for me. I am really stoked with my Flikka Freeride – Hans from Germany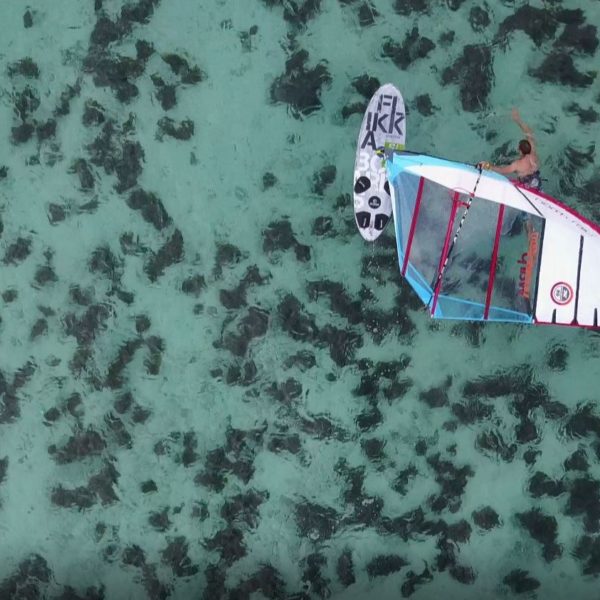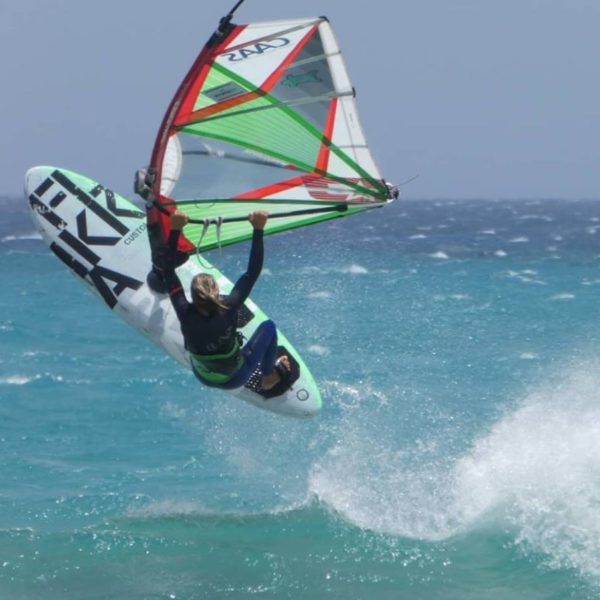 I love windsurfing.
As I progress I realized there was no suitable windsurfing board for me on the market. I am really happy Flikka could build a board for my specific needs – a 55l Freestyle board J – Lina Erzen, 14